I saw this post on Instagram yesterday that read, "MOOD for the rest of 2018: Booked, Busy. & Minding My Business!" Sistah's you can't disagree with that.
I know many of us can relate to this post. We all know we're BOOKED because we love books, BUSY because we are reading books, and minding our BUSINESS because we are too busy in the business of the characters in our books to be in anybody's real-life business.
That is except for when it comes to our favorite authors. Seems like they are the real-life examples of what it means to be BOOKED AND BUSY. Check out my list below. 
#7. Tomi Adeyemi This Young Adult fantasy writer of Children of Blood and Bone has been the talk of all things fantasy since her debut release last March. 
Sistahs, did you hear? The movie is being developed by Fox along with the producers of The Maze Runner and The Twilight trilogies!
Sis is BOOKED! Adeyemi is still down to earth and resourceful, I always catch her online instructing writing exercises. She is also holding down 5 Book Tours, Tomi just know, we are rooting for you sis and we are patiently awaiting your movie release date!
#6. Charlamagne tha God is out here publishing books, getting bags, and not forgetting to give back. The author of Black Privilege is keeping busy, on Oct. 23rd he released his latest book Shook One: Anxiety Playing Tricks On Me. 
In his latest book, Charlemagne gets extremely personal, he reveals his personal battle with anxiety. I admire how this man is an advocate for therapy and healing. He is now on an 8 City Book Tour, be sure to catch him in your city.
#5 Angie Thomas is having a blessed year. This Young Adult author of The Hate You Give has made it to the big screens. I love how this novel shows our youth as activists for change, it makes me wish I had a voice like Starr when I was that age. Sistahs because of the powerful message inside this good read, Angie Thomas has earned more than a few awards along the way!
Let's see there's the William C. Morris Award, the Odyssey Award, the Coretta Scott King Award, the Michael L. Printz Award, and the Waterstones Children's Book Prize–I'm sure there are more to come! 
#4 Tayari Jones. Whether you're having lunch with Tayari Jones in Miami or you want to witness her read in a comfy cabin in Idaho this author of An American Marriage has 20 DAYS on her calendar reserved for her dedicated readers.
Sis, if she's in your city, this is a meet and greet that will be remembered forever! I don't know how this professor does it, but Professor Jones is booked and busy all up until of May of 2019! 
#3 Ta-Nehisi Coates. Since 2015, this proud father and author of Between the World and Me has been traveling all around the U.S. and even Australia spreading a powerful message. 
Even with a 24 city tour, this man still finds time to hold down his current role for Marvel Comics. He is the current author of Black Panther and Captain America. If this was a spades game, Ta-Nehisi Coates is holding the big joker and the little joker–he's taking home all the books!
#2 Michelle Obama has pulled a Beyoncé! Was I the only Sistah elated to discover her new memoir Becoming is being released this month? Not only that but Obama is on a 12 CITY BOOK TOUR  that begins in Chicago and ends in Brooklyn, New York. 
Our Sistah Girls Book Club is hosting a 3 city (Atlanta, New York City, & Philadelphia) in person book club discussion on November 17th to kick off our quarterly meetups.
If you're unable to get tickets to see our First Lady this time around be sure to RSVP to link up and discuss the book with us.  
#1 Walter Mosley to me is the Quincy Jones in the writing industry. This man confessed that he writes every day! Though he doesn't give himself credit for all of his published works, within his 28 years of writing Mosley has published 54 books. At the ripe age of 66, he's made 17 appearances this year and always finds the time to share his wisdom. 
He even teaches at Sundance's Film Festival yearly. Not only did he release two books Down the River unto the Sea, and John Woman this year, Mosley is also a writer & consultant on FX's hottest drama (in my opinion), Snowfall. Sis, if you have not laid eyes on Damson Idris you are missing out.
Speaking of Snowfall, it has been renewed for a THIRD SEASON! I am not sure what I am excited for the most, to see what the Great Walter Mosley will create next or what's going to happen to Franklin after episode 9? Guess I'll have to wait and see!
Well, Sistah's I hope you enjoyed this list, I think I am going to follow the lead of the experts above and keep myself booked and busy!
Tami Roman said it best…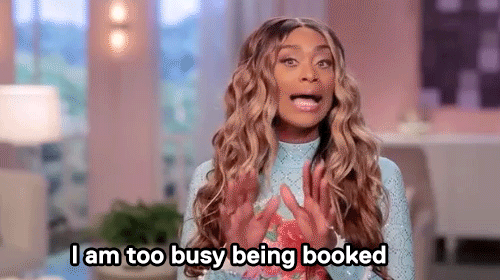 Comments
comments