Spoiler Free Review #ThrowbackRead
TBR Rank: This was book #229 pulled to read from my TBR pile
3 STARS out of 5
Genre: African American Romance (Erotica)
Series: Book #1 in The Wolf Pack series, released in 2007
NOTE: Taming the Wolf is for readers who have a sweet tooth, looking for a sweet love story where the characters experience a case of insta-love. If that's you go 1-click!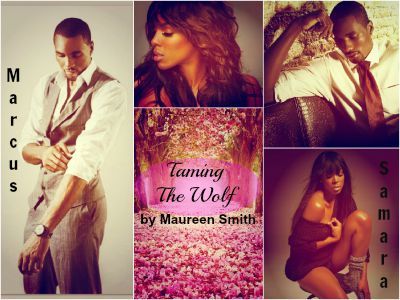 The book starts with multimillion dollar, powerful attorney Marcus Wolf front row at world renowned Asha Dubois's fashion show. Ummm excuse me, he's at this show against his will I should add. Regardless of his reluctance, his whole demeanor begins to change the second the show opens and Samara walks the runway. Not one to slouch, he sits up in his seat with interest providing her his full attention.
After another broken promise from her mother, Samara can't get out of the building fast enough. She only opened the show hoping that in return her mother(Asha) would help her out of a bind. You see, the non-profit organization Samara runs is barely keeping a float. And after her mother's rejection she must find another donor.
Right before she makes her great escape she bumps in to none other than Marcus Wolf. Happy of course to be directly in her way, Marcus is then introduced to her by a mutual friend. However his attempts at asking her out flops and just as quickly as he meets her, Samara is on her way out the door.
Holding absolutely no clue that Marcus can be her saving grace; not just financially but physically and emotionally, Samara returns from New York to Washington D.C. bearing bad news.
That is until her co-worker Melissa brings in the Washington Post…
Later that afternoon, Melissa burst excitedly into Samara's office.
"Have you seen today's Washington Post? Specifically the Metro section?" Samara chuckled, looking pointedly at the pile of paperwork in front of her.
"Does it look like I've had time to read the newspaper?"
"I think I may have found the solution to our financial crisis," Melissa rushed on as if Samara hadn't spoken. She tossed the Metro section onto Samara's desk, the edges crumpled from her overzealous grip.
"Take a look at that."
Samara glanced down and froze. Slowly, almost against her will, she picked up the newspaper and stared at the front page. PROMINENT ATTORNEY BRINGS PRACTICE TO THE BELTWAY, the headline proclaimed. And there, to her utter astonishment, was a photograph of Marcus Wolf.
Things may work out after all. Only how can she regain Marcus Wolf's attention after she straight shut him DOWN in New York? Using her feminine wilds, Samara pops up on Marcus while he is speaking to local college students.
Her main focus? To obtain his focus and leave him wanting more, which she does 😉
Thoughts
Sometimes sweet insta-love story lines can back fire if the reader is not in the mood for it. I wasn't really looking for that in this read. I was more so searching for a sensual love story with suspense. Now, I've read another book by this author and enjoyed her style so I gave this one a shot. Annnnnd I thought it was ok, just not what I was expecting. Not sure yet if I'll continue the Wolf Pack series. Yes, the Wolf men both young and old are delicious. Hmm, however I might need to wait for the mood to strike.
My Ratings
Writing Style- Sweet with a bit of predictability.
POV Dual, male and female pov
Plot/Storyline- A woman seeks out a hot rich attorney in need of a donation for her non-profit.
Steam Factor- ( Lo-Med-Hi) I say Medium. On a scale of 1-10 I say 7
Entertainment Level-(On a scale of Lo-Med-Hi) I say Medium
Overall- I thought it was okay.
Now go forth and read, then come tell us what you thought about it! If only just a few words, reviews are important to authors.
Comments
comments