Writing Tool Kit Must Haves
Hey writers, wordsmiths, and everyone in between! Are you in need of some new tools to help you churn out your next masterpiece?
Fear not, for I've compiled a list of 12 must-haves that will leave you inspired and ready to werk!
Whether you're looking for a way to keep those good ideas from going down the drain, your next great cup of tea or coffee, or simply in need of a little inspiration, I've got you covered. 
I LIVE for Scrivener, mmkay? In short, it's software for your PC that helps you keep track of every single detail of your story.
I'm talking cork boards, setting and character templates, manuscript templates, and more. 
One of the best things about it is that, unlike other subscription-model software programs, Scrivener has a one-time fee of $59.99 and is absolutely worth it!
Now, there is a bit of a learning curve if you want to maximize its use, but there are classes you can take that walk you through it, or you can just dive right in like I did!
Story Genius by Lisa Cron
 As an author and writing coach, Story Genius is my go-to recommendation for any writer that's found themselves 40,000 words deep into their book idea, only to realize it's going nowhere.
Using the science behind what our brains are wired to crave in every story, Cron teaches how to craft complex characters and riveting scenes that keep your readers fully immersed and engaged. 
If you're a fan of the Pomodoro method—doing a task for 25 minutes then taking a five minute break—you'll love the Cube Timer. These easy-to-use timekeepers have increments of 5, 10, 20, and 30 minutes.
Simply choose the time you want, face that number upward and the countdown begins.
They're also great if you have kids that are always asking when they can have a snack. Just flip the timer for a few extra minutes of peace 🤣.
Leuchtturm Journals
No writing must-have list would be complete without at least one journal recommendation. From one journal junkie to another, you need a Leuchtturm in your life!
The paper is slim-thick aka just thick enough that your favorite pens won't bleed through. They're available in hard or soft covers, multiple sizes, and a beautiful range of colors.
If you're into spirals, "The Notebook" by Appointed is high in quality and aesthetics. The covers are made of durable, waterproof cotton with blank, lined, or dotted paper options. 
Don't care that much about paper quality? The Pen + Gear Poly 1-subject notebooks from Walmart are my favorite bargain notebooks. The cover is sturdy, and the paper is actually pretty decent! 
Sarasa Dry Gel Pen by Zebra
Alright, so my absolute favorite pen of all time (so far) is the Pilot G-2, .05 tip, but sometimes you need something that's a little smoother and dries in a snap. Enter the Sarasa Dry by Zebra. 
These are super smooth and ultra-fast drying. My one issue is that they're much better for cursive writing than print—in my case, anyway.
They can also be temperamental depending on the paper you use, so purchase one to make sure you love it before buying an entire pack. 
Aqua Notes Water Proof Note Pad
Y'all, these right here!!!! LIFE-CHANGING! I was totally that person who'd get all the best ideas in the shower then completely forget them as soon as I turned off the water. 
With Aquanotes, I saved many a story idea, grocery list, to-do list, etc. Stick this waterproof notepad and pencil into the shower and you're ready when creativity strikes, or when you just want to leave a sweet note for you bae. The best part—the sheets are removable!
If your hands are tired of writing and typing, or you're in a space where doing so just isn't possible, speech-to-text software might be for you.
Dragon is considered the best and most powerful option, with both mobile and desktop versions.  
If you're trying to save your coins, your best bets are Otter.ai—also available as a mobile app—or using the dictation feature in Microsoft Office.
WARNING: When using these, you'll have to speak slowly and with clear diction, because if your accent is like mine: southern + jersey + hood + bougie, you'll end up with gibberish!
Cuz we don't just write, we also read. If you're tired of using Target receipts to hold your place 👀, try these bookmarks for the culture by artist Shari Renee.
From Aaliyah to your favorite Martin characters and everything in between, these hand-drawn designs will have you smiling every time you open your book.
Use her Instagram page, @inspirethetribe, to find the designs you love then visit her shop and make your purchase.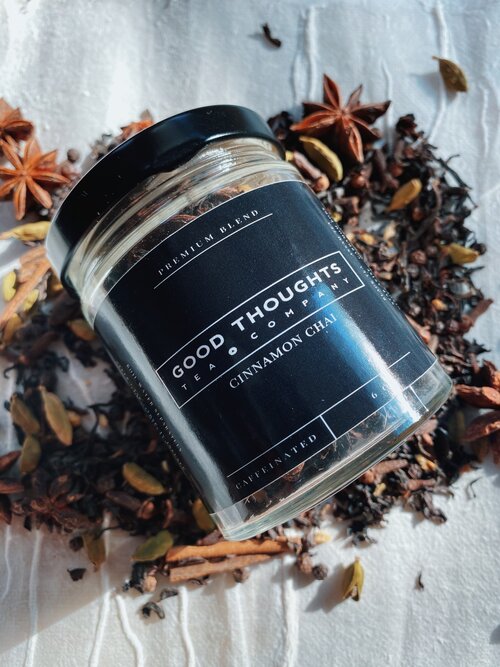 Caffeine and I are no longer friends. I don't know what I did to hurt its feelings, but after years of joyous consumption, it now gives me the worst migraines if I drink too much.
Luckily, some smarty pants invented the process of decaffeinating! 
My go-to beverage of choice while writing will always and forever be a nice cup of black tea with a splash of canned milk and a dash of coconut sugar.
If you like your tea with a side of support, try the Cinnamon Chai from Good Thoughts Tea Co. It's tasty and Black-owned. 
If you're a coffee lover, try the Rise and Grind medium roast from BLK & Bold—yep, it's also Black-owned, bold, and available at Target (in case you need another reason to go).
There's nothing like an overused cliché to suck the joy out of your writing. Cliché used with purpose can absolutely add depth and color to your prose.
Trouble is, we don't always realize when we're using them. Just copy and paste your text, and the Cliché Finder will do exactly what it says—find cliches!
As I type this, one of my neighbors is blowing leaves off of their lawn even though most of the trees on our street have been bald since December.
Thankfully, I'm prepared for this and other sound pollution with noise-canceling headphones. 
I absolutely loved the SE7 model (above) by Cowin, until I tried (aka stole) the Sony WH-1000XM4 from my hubs.
The sound quality is outstanding and the noise cancellation blocks out those children asking for snacks! Of course, this comes at a retail price of $348, but they're worth it if you're looking to invest in a durable pair. 
Affirmations
Here's the thing: you can get all those great tools listed above and still be absolutely blank when you sit down to write.
Not because your idea isn't amaze balls, but because that nagging little voice in your head starts to tell you why you can't; reminds you of all the ways you failed to finish in the past.
In those times, the best thing to do is take the thoughts captive and make the choice to think positively. 
Reciting affirmations before writing can help reduce anxiety, encourage focus and motivation, and help you develop a growth mindset. Steal mine below or develop your own! 
One last thing…
The creative process is different for everyone, which means some of these must-haves might not be your cup of tea—and that's ok.
It takes trial and error to find the right tools for you, so choose the ones that best support your writing process and leave the rest!
Got some you love that aren't mentioned here? Drop them in the comments below. 
Comments
comments